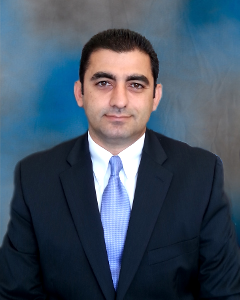 Allen Khozahi
Shared Services
Allen Khozahi is the Division Chief of the Shared Services Division. Mr. Khozahi began his service with Los Angeles County in January 2002 with the Auditor-Controller's Audit Division, and later worked as a Senior Investigator in the Office of County Investigations. Mr. Khozahi currently oversees 90 professional, clerical, and technical staff who provide expert accounts payable, accounts receivable, grants accounting, procurement, and payroll services for up to 18 client departments, representing approximately 8,000 employees. Mr. Khozahi holds a Bachelor's of Science degree in Accountancy and Business Administration, with a major in Finance from California State University, Northridge.
Shared Services
The goal of the Shared Services Division is to consolidate and redesign business processes into a major service center, so that optimum service can be delivered in a cost-effective and high-quality environment, and ultimately, achieve organizational effectiveness.
Private industry and the federal government are rapidly moving to the Shared Services concept. The drivers of change are process standardization and process improvements. At the October 20, 2004 meeting of the County's Guiding Coalition (GC), the GC voted to endorse the Shared Services initiative developed by one of the strategy teams convened by the GC to develop new strategies and objectives as updates to the County Strategic Plan.
The emphasis of implementation is in the affected department's fiscal services areas including Accounts Receivable, Accounts Payable, Grants Accounting, Payroll and Procurement. With the implementation of the Shared Services Program, county departments benefit from a seamless fiscal operation, consistent accounting procedures and improved core competency. Additionally, the departments will achieve cost reduction through economies of scale and skill, and the department head or executive/manager's time will be freed up to focus on main mission priorities.